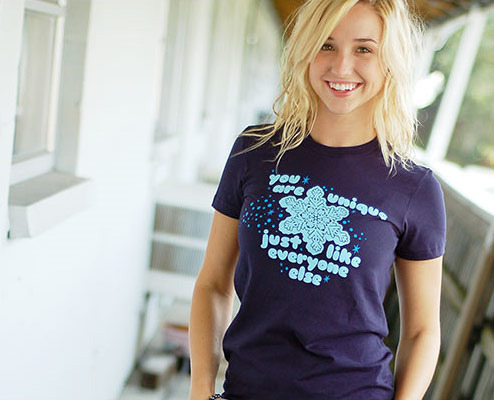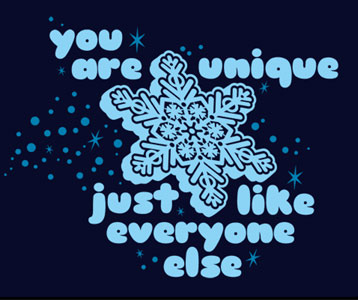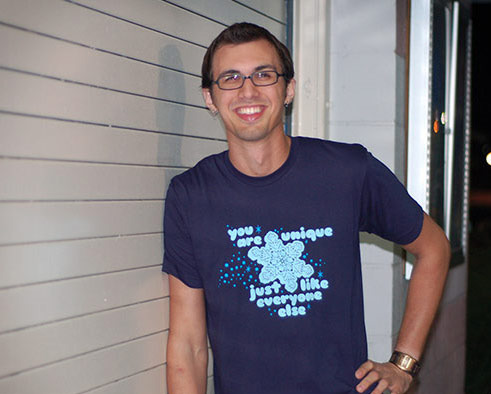 Although Punxsutawney Phil's accuracy is up for debate, the fact remains that our furry forecaster saw his shadow yesterday morning, indicating another six weeks of wintery weather.  In light of that depressing news, I decided to post this uplifting and unique snowflake t-shirt.  Hopefully, this winter themed tee will warm your heart a little.
I am not a fan of winter.  I don't like the cold, I can't ski and I'm too old for school cancellations.  The only thing that appeals to me is seeing the snow covered trees from inside my toasty home while I sip hot cocoa with plenty of mini marshmallows.  From afar, snow is beautiful but up close, it is miraculous.  Snowflakes are Mother Nature's momentary pieces of art that are often overlooked.  Each one is dazzlingly intricate and unlike any other.
There are many types of flakes, including stellar and sectored plates, rimed and triangular crystals, stellar and fern-like stellar dendrites, hollow and capped columns, simple prisms and more.  When was the last time you looked closely at a snowflake?  Take this additional six weeks of winter to stop and investigate the white magic falling from the sky.  You may be surprised.  Let this unique snowflake t-shirt remind you of the beauty of nature…even if it does cause terrible traffic problems.
Artist: Snorg Tees Category: Holiday