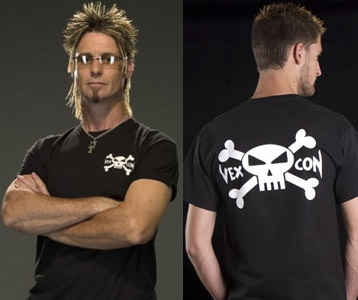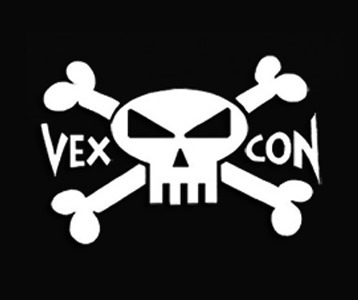 Ahhh Snake!  Pair that joking scream with some Munsters style music and you have the intro to one of my favorite TV shows, Billy the Exterminator on A&E.  If you love watching the two brothers, Billy and Ricky Bretherton, capture everything from skunks to alligators and wish you could get in on the action, then get some practice by capturing this Billy the Exterminator t-shirt.  Now you don't even have to worry about being an expert at exterminating pests, because you can get a Vexcon t-shirt without going through the interview.
As a background for anyone who doesn't know, Vexcon is a pest control and exterminating company based near Shreveport, Louisiana.  The close proximity to swamps leads the crew into some tricky situations and crazy infestations, which almost always prove to be good fun entertainment.  The company is run by a former U.S. Air Force Sergeant turned spiked leather wearing nice-guy named Billy Bretherton.  Although his costume-like attire and mullet may seem off-putting, his nice-guy attitude shows through with his willingness to hire and work with family members.  His brother Ricky works the field with him, despite being highly allergic to bee stings.  His protective mother Donnie handles the calls and his father Bill is a jack of all trades.  Their big break came when they were filmed for an episode of Dirty Jobs with Mike Rowe.  Billy's flashy style and ethical control methods made an impression, so they were asked to be filmed for a season.  The first season was titled The Exterminators, but when it was picked up for a second season the name was updated, as reflected on these Billy the Exterminator tees.
As you can tell, the show has taken off so much that you can buy your very own Vexcon t-shirt!  You could even pair off this Billy the Exterminator t-shirt with a cowboy hat and some spiked gloves for a rockin' costume.  No matter what, I can't deny that I'd love to have Billy come to the rescue if I had a pest problem.  The moral of the story is: Nice guys don't always finish last, but pests do.
Sold by: Vexcon Categories: Costume Ts, Seen On Screen, TV