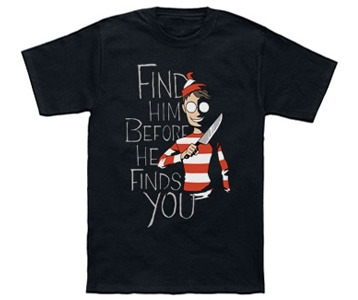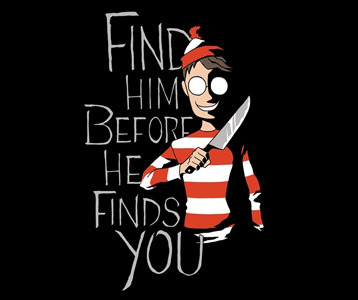 I enjoy being around kids, but I have to admit that it is partially because I can play with their crazy toys and read books from my past.  This Where's Waldo t-shirt captures one of my favorite activities as a kid, hunting for Waldo!  The detailed drawings are well thought out and easily entertained me for hours at a time.  The tee also puts a killer twist on the seemingly harmless character, encouraging observers to "find him before he finds you".
In 1987, the Where's Waldo franchise was launched by illustrator Martin Handford.  In his series of books, we go on a manhunt for Waldo, a brunette man clad in a red and white striped shirt, pom hat, blue jeans and black glasses, identical to the character shown on this killer Waldo tee.  Although his attire seems like it would be easy to spot, it is very difficult in Handford's chaotically crowded drawings.  Themes like pirate ships, medieval festivals, sunny beaches and haunted parties make the adventure entertaining every step of the way.  In addition to Waldo, you are given a list of some comical oddities to find that have been drawn into the pictures.  Locating his dog Woof, girlfriend Wenda and friend Wizard Whitebeard is often also part of the challenge.
This Where's Waldo t-shirt puts a murderous twist on his various travels.  If you wish you could see half the things Waldo has seen then snag this tee.  Which world would you go to?