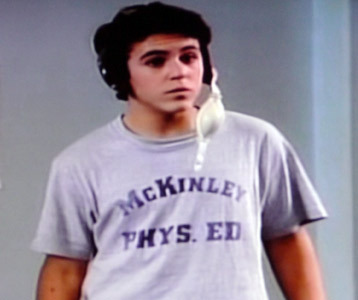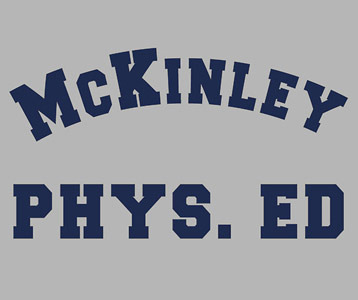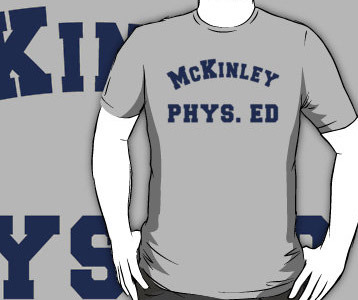 Today, watching even five minutes of the TV show The Wonder Years immediately conjures feelings of nostalgia for my own childhood.  Not only was I the same age as Kevin Arnold, the show's main character during its 1989 to 1993 six-season run, I also shared the same first name and I too had a somewhat annoying older brother who often referred to me by nicknames that were similar to "Butthead".  Like most of us who are now more than a decade removed from the days of our youth, we at times find ourselves wishing that we could replay, or better yet, relive the best parts.  In a way, the Hub's reruns of The Wonder Years TV show, along with merchandise like this McKinley Phys. Ed t-shirt, allow us to do this to a certain degree.  After all, were not Kevin Arnold, Paul Pfeiffer and Winnie Cooper also a part of our youth?
After Kevin, Paul and Winnie graduated from Robert F. Kennedy Junior High School, all three eventually ended up at McKinley Senior High School (Paul temporarily attended a prep school until his father could no longer afford to send him).  Much like the plot of my own life, friends, sports and dating became the main storylines during those years.  Kevin tried out for the McKinley High School Wrestling Team and was shocked to discover that the bigger guy doesn't always come out on top.  He can be seen wearing this McKinley Phys. Ed shirt during the tryouts and on several other occasions.  While at McKinley, Kevin dated a few girls when he was apart from Winnie, but those relationships didn't last very long.  Eventually, he got back together with Winnie, only to break up again after he let peer pressure get the best of him.  His feelings for Winnie remained apparent and the two would reunite romantically on several occasions, always seeming to in the least, attempt to maintain a close friendship.
This Wonder Years TV show shirt is reminiscent of the latter years of the series.  It reminds us of our own McKinley High School, a place where relationships blossomed, hearts were broken and boys and girls evolved into young men and women.  It was a place that provided a canvas for our experiences at the time, both good and bad.  This Phys. Ed t-shirt reminds me of not just gym class or high school in general, it also reminds me of the half-hour that I spent each week sitting on the couch of my childhood home, watching The Wonder Years.
Categories: Seen On Screen, TV